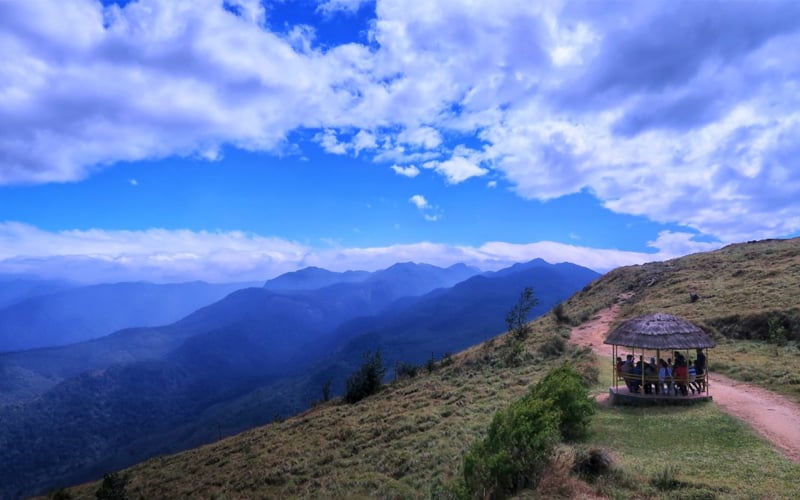 Ponmudi is situated in the state of Kerala. This scenic and lovely city is a hill station and is also known by the Golden Peak name. It is situated in Peringamala grama panchayath of Trivandrum District. This hill station is located 53 km north-east of Trivandrum City, 78 km south-east of Varkala Beach and 69 km north-east of Kovalam Beach and stands at an altitude of 1,100 m (3,600 ft). Also known as the Kashmir of Kerala, Ponmudi belongs to the Western Ghats mountain range and runs along the Arabian Sea. This city is a popular haunt among the honeymooners as it has a pleasant temperature between 18 degree Celsius and 25 degree Celsius all year long. This hill station is considered as the best weekend getaway. The locals in and around this place affirm that it is the best place to unwind. In addition to honeymooners, this place is also very famous among family and friends. This scenic place has the best view and landscape in the whole state. People from the capital city Thiruvananthapuram flock to this quaint place for a chill weekend. The winding paths in this hill station tempt people to go on long drives. The breathtakingly, beautiful view fills the onlooker with awe and admiration. This gorgeous place abounds in rare flora and fauna, including rare mountain flowers, wild orchids and exotic butterflies.
How to reach Ponmudi?
The two-lane highway can reach Ponmudi from Trivandrum. As you start nearing this hill station, you will begin to encounter beautiful scenes that start from Anapara that includes snow-capped mountains and tea gardens. The drive to Ponmudi in itself is thrilling and exciting as drivers have to navigate through 22 hairpin turns. The place has become a popular haunt among trekkers and backpackers in recent times.

It is well connected to Thiruvanathapuram and Kerala by many roads and highways. Many bus services also run along the way which makes this hill station approachable. You can again hire taxis. The nearest railway station is Thiruvananthapuram Central railway station, and the nearest airport is Thiruvananthapuram International Airport.
Trivandrum to Ponmudi
Thiruvananthapuram to Ponmudi is just 53 Km. It will hardly take 2 hours if you take a car, but by walk, it is a little challenging to bring you 11 Hrs.
Ponmudi Hotels
| | | | |
| --- | --- | --- | --- |
| Duke's Forest Lodge | Government Guest House Restaurant | Hill View Stay Inn | KTDC Golden Peak |
| Kudumbasree Hotel | MankayamValley Resorts | PWD Camp Shed | River County Resort |
| River Eco Tourism Resort | | | |
Ponmudi Timing
| Day | Open Time | Close Time |
| --- | --- | --- |
| Monday | 12:00 A.M | 11:59 P.M |
| Tuesday | 12:00 A.M | 11:59 P.M |
| Wednesday | 12:00 A.M | 11:59 P.M |
| Thrusday | 12:00 A.M | 11:59 P.M |
| Friday | 12:00 A.M | 11:59 P.M |
| Saturday | 12:00 A.M | 11:59 P.M |
| Sunday | 12:00 A.M | 11:59 P.M |
Places to visit in Ponmudi
Ponmudi has a placid temperature all year round, and the three-hour drive from the capital is justified when it is compared to the view of the valley. The Kallar river on the way makes the drive worth it. The clear water of the river paired with the charming Meenmutty waterfalls makes for a perfect getaway. You will find the hills nestled with small and beguiling cottages and resorts, making it even more quaint and exotic.

You cannot miss the treehouse view tower, which boasts the best view in all of Ponmudi. This place is not on the horizon like other hill stations, but slowly explorers and eager tourists have made it a rising hotbed of tourist activity in recent years. This hill station is unique because it is so near to the city, but at the same time, it is protected by the sea.

The Golden Valley in Ponmudi is a must-visit. This valley is full of creeks and rapids, which makes it the place to be. The roads are encompassed with long trees, and it seems you are travelling midst a forest. This valley is also home to a lot of wild animals. You can reach the Kallar river from the valley, and it also provides one of the best views of the hills. The water is so clean that you can spot fishes swimming.

You should not miss the trekking trails that Ponmudi offers. The trekking trails exposes hidden gems of nature that ignores the eyes of a regular tourist. One of the famous and most trespassed tracks is the one to Varayadumotta. It offers the bird's-eye view of the hills along with the Nilgiri Tahrs. It is an 18 km trek and requires prior booking as you cannot go on this trek without guides and with a limited number of guides available, you have to make a prior booking else you will be left stranded.
Place to visit in Ponmudi Hill Station
| | | | |
| --- | --- | --- | --- |
| Agasthiya Biological Park | Agasthyarkoodam | Anapara | Aranmula water carnival |
| Deer Park | Golden Valley | Kallar River | KTDC Resort |
| Lion Safari | Meenmutty Falls | Peppara Wildlife Sanctuary | Ponmudi Crest |
| Ponmudi Falls | | | |