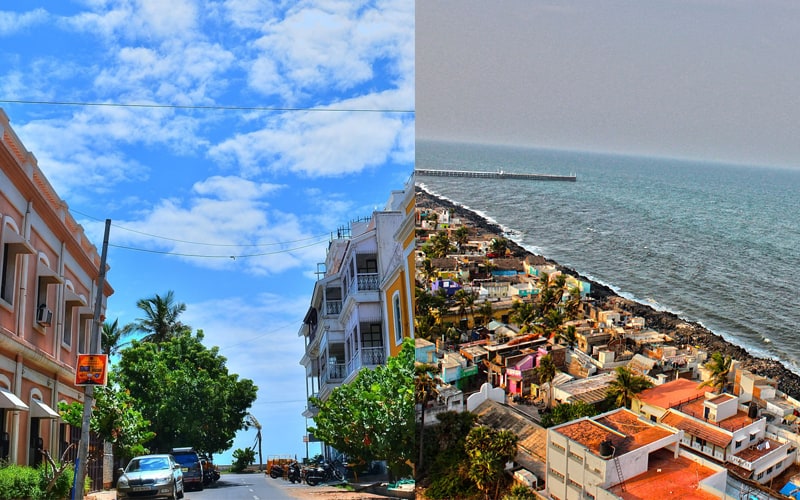 Pondicherry, also known as the French capital of India, is one of the most beautiful places in India. The official name of Pondicherry was changed to Puducherry after the Pondicherry Act (Alteration of Name) was passed in 2006. Pondicherry is the capital of the union territory Puducherry. It is also the most densely populated city of the union territory. Pondicherry lies in the Puducherry district on the southeast coast of India. The city is enclosed by the state of Tamil Nadu, which plays a huge part in influencing the culture and language of the city. The Pondicherry municipality is divided into 42 wards, and these wards are further divided according to the zones they fall in. The north zone of the city has wards 1-10. The Boulevard Town zone has wards 11-19, and the rest of the wards lie in the southwest zone of the city center. Pondicherry became a part of India only in 1954. Till then, it was part of the French settlement in India. Pondicherry's control was shuffled between the British and French before this, but majorly, Pondicherry state remained under France's control. In 1954 a peaceful transition of power made Pondicherry a part of India.
How to reach Pondicherry?
By Road
This beachside union territory is well connected to other states by a number of highways and freeways. Chennai and Pondicherry are connected via the East Coast Road, passing through Mahabalipuram. Additionally, if you do not have a car of your own, then you can just hop on any of the buses that the Pondicherry Road Transport Corporation runs. The Pondicherry Road Transport Corporation has a hoard of buses and Volvo buses, which connects Pondicherry to different parts of Chennai and other states. The Tamil Nadu State Transport Corporation also runs buses to and from Pondicherry.
By Train
Pondicherry is well-connected to different parts of the country owing to Indian railways. You can find a direct train to Pondicherry from Chennai, Delhi, Kolkata, and Mumbai. You will also find train connectivity from Kanyakumari, Hyderabad, Nagpur, Bhubaneshwar, Bangalore, Visakhapatnam, and Mangalore. The Pondicherry railway station is one of the oldest rail links in India.
By Air
The Pondicherry Airport is in Lawspet, which is an Assembly Constituency. You can find direct flights to Pondicherry from Hyderabad and Bangalore operated by various domestic airlines.
Weather in Pondicherry
If anyone wants to go to a place with pleasant weather, then Pondicherry is the place to be. Pondicherry has a distinctive Koppen climate classification, which can be described as tropical wet and dry, which is very much similar to that of coastal Tamil Nadu. Summer in Pondicherry starts in April and stays till June and reaches a maximum temperature of 41 degree Celsius on hot days. The average maximum temperature in summers is 36 degree Celsius, and the minimum temperature ranges from 28-32 degree Celsius. The summer is followed by heavy monsoon till September, which is full of dry and humid spells. In the northeast, monsoon sets in the middle of October. Pondicherry, the majority of, is rainfall during the months from October to December. The average annual rainfall is 1355mm or 53 inches. Winters in Pondicherry is cool and dry. Its not very cold, with a minimum temperature range of 18-20 degree Celsius.
Resorts in Pondicherry
| | | | |
| --- | --- | --- | --- |
| Anandha Inn | Anantha Heritage Hotel | Auro Resort | Bonjour Bonheur Ocean Spray |
| Club Mahindra | Dune Mansion Calve | GG Resorts | Grand Serenaa Hotels & Resorts |
| Hotel Atithi | Hotel De L'Orient | Hotel du Parc | Hotel Le Royal Park |
| K Resort | KK Farm Resort | La Maison Radha | La Taara Beach Resort |
| La Villa Puducherry | Le Dupleix | Le Pondy Beach & Lake Resort | L'Escale Puducherry |
| Maison Perumal | Mango Hill by Poppys | Ocean Spray Puducherry | Palais De Mahe |
| Prince Park Farm House | Serenity Sunrise Beach Resort | St James Court Beach Resort | Sunway Manor |
| The Dune Eco Village and Spa | The Gate House Tranquebar | The Promenade | The Soorya Beach Resort |
| The Windflower Resorts and Spa | Villa Bayoud | Villa Helena Puducherry | Villa Shanti - A Heritage Hotel |
Best Time to visit Pondicherry
If you are plannig your holiday, then best time to visit Pondicherry is from the month of October to February. The temperature in Pondicherry during this months are from 15ºC -30ºC which are one of the best temprature of all time in Pondicherry.
Best time to Visit Pondicherry
| Month | Best Time | Max. /Min Temp (°C) | Rain(Days) |
| --- | --- | --- | --- |
| January | Best Time | 29°/ 22° | 5 |
| February | Best Time | 31°/ 22° | 1 |
| March | | 32°/ 23° | 0 |
| April | | 34°/ 25° | 4 |
| May | | 37°/ 27° | 1 |
| June | | 36°/ 27° | 9 |
| July | | 34°/ 26° | 16 |
| August | | 34°/ 25° | 20 |
| September | | 33°/ 25° | 20 |
| October | Best Time | 31°/ 25° | 23 |
| November | Best Time | 31°/ 24° | 19 |
| December | Best Time | 29°/ 23° | 12 |
Places to visit in Pondicherry
Pondicherry is such an amalgam of Indian and French culture that you will feel that you are in a place out of this world. With numerous beaches such as Rock Beach, Pondicherry Beach, and Serenity Beach, this city has tourists thronging all-round the year. The Botanical gardens hold another pull for the tourists.
Pondicherry is such a mix of culture and art that it has a pleasant surprise on every corner of the road. You will find cute cafes and restaurants that serve lip-smacking delicacies not only from India and France but also all over the world. Pondicherry also boasts of a happening nightlife with beach parties going on every day, be it a weekday or weekend. You will find delectable cocktails and mocktails with soothing music in every food joint in the city. You will not wish to return once you reach Pondicherry.
Another major attraction for tourists is the Sri Aurobindo Ashram, which can be found in rue de la Marine. It is one of the biggest and renowned ashrams in India. It was founded by spiritual philosopher Sri Aurobindo who was also a freedom fighter. City of Dawn or better known as Auroville, is an 'experimental' town located 8kms away from the main city. A visit to the Auroville and Sri Aurobindo Ashram is a must if you want to get in touch with your spirituality and your inner self.
Pondicherry abounds in beautiful churches. You will find historic churches dating back to the 18th century. The Children's Park and Dupleix Statue, Gandhi statue, Nehru Statue, Le Café, French War Memorial, 19th Century Light House, Bharathi Park, Governors Palace, Romain Rolland Library, Legislative Assembly, Pondicherry Museum, and the French Institute of Pondicherry at Saint Louis Street are some outstanding pieces of architecture in the city.
In addition to beautiful churches, Pondicherry also has many temples and is famous among pilgrims. The oldest temple in Pondicherry is the Sengazhuneer Amman Temple at Veerampattinam village. Another famous temple in the city is Thirukaameeswarar Temple, and the Ther Thiruvizha (chariot procession) is celebrated at this temple. Arulmigu Manakula Vinayagar Devasthanam on Manakula Vinayagar Street is another Hindu temple. Dedicated to Lord Ganesh, this temple has been in existence even before the French set foot here.
Things to do in Pondicherry
| | | | |
| --- | --- | --- | --- |
| Ananda Ranga Pillai Mansion | Arikamedu | Aurobindo Ashram | Auroville |
| Bharati Government Park | Cafe Xtasi | Chunnambar Boathouse | Cluny Embroidery Centre |
| Eglise de Notre Dame des Anges | French War Memorial | Gokilambal Thirukameswar Temple | Goubert Market |
| ICYER | Immaculate Conception Cathedral | ISKCON Pondicherry | Jawahar Toy Museum |
| Kanniga Parameswari Temple | Mahatma Gandhi Statue | Manakula Vinayagar Temple | Meeran Mosque |
| Old Lighthouse | Ousteri Lake | Ousteri Wetland and National Park | Park Monument (Aayi Mandapam) |
| Promenade | Scuba Diving | Sri Aurobindo Ashram | Sri Karaneswara Nataraja Temple |
| Statue of Dupleix | The Basilica of the Sacred Heart of Jesus | The Ganesh Garden | The Pondicherry Botanical Garden |
| The Pondicherry Museum | Varadaraja Perumal Temple | | |
Pondicherry Beach
The sea has a beguiling effect on the tourists, but the beaches have been lost due to human-made reasons. At one time, Pondicherry had beautiful beaches, but the breakwater to the harbor and other construction has led to extreme coastal erosion, which made the sand from the Pondicherry' Promenade Beach to disappear entirely. Consequently, because of the construction of seawall and groin construction other beaches on the north coast have also been lost. Considered as a love child of France and India, Pondicherry abounds in old Bouganvellia-draped French-style houses and churches. Newly built churches and other pieces of architecture gives the city a unique personality.
| | | | |
| --- | --- | --- | --- |
| Auroville Beach | Karaikal Beach | Mahe Beach | Paradise Beach |
| Promenade Beach | Quiet Beach | Reppo Beach | Rock Beach |
| Serenity Beach | The Plage Paradiso Beach | Veerampattinam Beach | |
Pondicherry Engineering College List
| College Name | Approved By | Type |
| --- | --- | --- |
| Achariya College Of Engineering Technology | Govt. Of India | Private |
| Alpha College Of Engineering And Technology | IAO | Private |
| Bharathiyar College Of Engineering & Technology | AICTE | Private |
| Christ College Of Engineering & Technology | AICTE | Private |
| Department of Management Studies | NAAC | Government |
| Hayagriva Polytechnic College | AICTE | Private |
| Karaikal Polytechnic College | AICTE | Private |
| National Institute of Technology | UGC AICTE | Government |
| Perunthalaivar Kamarajar Institute of Engineering | AICTE | Government |
| Pondicherry University | UGC NAAC | Private |
| RAAK College Of Engineering And Technology | AICTE | Private |
| Rajiv Gandhi College Of Engineering And Technology | AICTE | Private |
| Regency Institute of Technology | AICTE | Private |
| Shri Sathguru Engineering of College | AICTE | Private |
| Sri Manakula Vinayagar Engineering College | AICTE | Private |
| Sri Manakula Vinayagar Polytechnic College | AICTE | Private |
Pondicherry Medical College List
| College Name | Approved By | Type |
| --- | --- | --- |
| Bharathidasan Govt. College For Women | UGC | Government |
| Indira Gandhi Medical College And Research Institute | MCI | Private |
| JIPMER Karikal - Jawaharlal Institute of Postgraduate Medical Education and Research | MCI | Private |
| Mahatma Gandhi Medical College and Research Institute | MCI | Private |
| Mother Theresa Postgraduate and Research Institute of Health Sciences | AICTE | Private |
| Pondicherry Institute of Medical Sciences | MCI | Private |
| Pondicherry University Community College - Mahe Centre Campus | MCI | Private |
| Sree Lakshmi Narayana Institute of Medical Sciences | MCI | Private |
| Sri Balaji Vidyapeeth | MCI | Private |
| Sri Lakshmi Narayana Institute of Medical Science | MCI | Private |
| Sri Manakula Vinayagar Medical College and Hospital | MCI | Private |
| Sri Venkateswaraa Medical College | MCI | Private |
| Vinayaka Missions Medical College | UGC | Government |
Pondicherry Medical College List
1. Indira Gandhi Institute of Dental Sciences
2. Indira Gandhi Institute of Dental Sciences
3. Mahatma Gandhi Postgraduate Institute of Dental Sciences
4. Mahe Institute of Dental Sciences and Hospital
5. Mahe Post Graduate Institute of Dental Sciences & Hospital
RTO Codes Pondicherry (Regional Transport Office)
| RTO Location | RTO Code |
| --- | --- |
| Pondicherry | PY01 |
| Karaikal | PY02 |
| Mahe | PY03 |
| Yanam | PY04 |