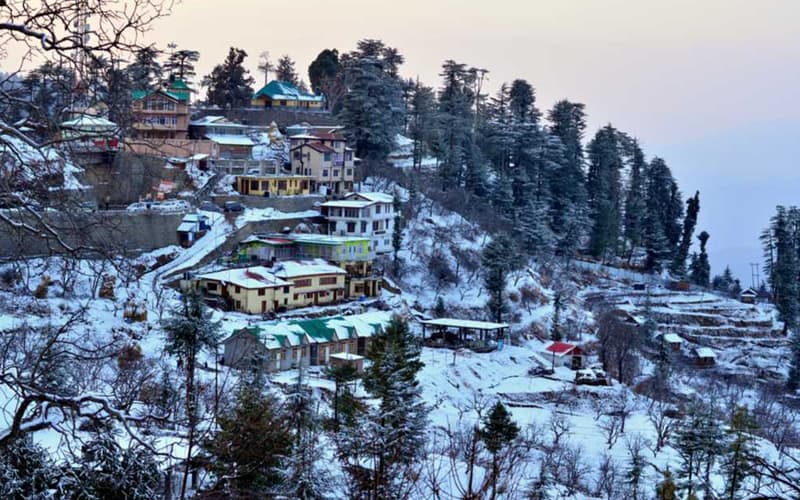 If you are looking for a hill station where you will definitely find snow, then Kufri is the place to be. Kufri is situated in Shimla, Himachal Pradesh. Only 15 km from the capital, Shimla, Kufri is located on NH22. The name of the place has been derived from the word 'Kufr' which means 'lake' in the local language. This hill station was founded only in 1819 by the British after it was captured from Nepal as part of the Sugauli treaty. Kufri serves as the starting point to many treks to places like Manali, Shimla and Rewalsar among many others.
Weather in Kufri
The climate in Kufri is typical of a hill station. The winters which last from October to March are extremely cold, and the temperature falls below zero, which covers the valley with snow and frost. The summers last from April to June and this is the time when the place is filled with tourists as the weather is cool and pleasant and acts as a respite from the scorching sun in other parts of the nation. The monsoon lasts between July and September, but Kufri doesn't receive enough rainfall, and the temperature starts dripping from this time only.
Best Time to visit Kufri (Temperature in Kufri)
| Month | Best Time | Max./ Min. Temp (°C) | Rain (Days) |
| --- | --- | --- | --- |
| January | | 7°/ -3° | 2 |
| February | | 11°/ -1° | 3 |
| March | Best Time | 13°/ 1° | 6 |
| April | Best Time | 20°/ 9° | 10 |
| May | Best Time | 22°/ 8° | 9 |
| June | Best Time | 25°/ 11° | 6 |
| July | Best Time | 20°/ 12° | 27 |
| August | Best Time | 19°/ 12° | 29 |
| September | Best Time | 19°/ 11° | 23 |
| October | Best Time | 18°/ 6° | 1 |
| November | Best Time | 15°/ 3° | 6 |
| December | | 10°/ -1° | 0 |
Kufri Snowfall
Kufri is known for its ambrosial beauty and thick snow cover. Kufri's stunning beauty is enhanced by its snow blanket that covers the entire town in winter. Kufri's snowfall is something that every traveller should see!
This place is close to Shimla so it has become a popular weekend getaway. Many tourists who visit Shimla now also visit Kufri. This place is full of snow, especially in winters - something that might not be available in Shimla. Kufri, a small and easily accessible town that is surrounded by snow in peak winters, offers a serene whiteout experience.
Shimla to Kufri
Shimla to Kufri distance is just 15 Km. It will hardly take Half an Hour if you take a car, but it will take 3 Hrs to reach by walk.
Delhi to Kufri
Capital of India Delhi to Kufri distance is around 350 Km. If you go via NH 44 and NH5, It will take 9 hours if you take a car, but it is a little challenging to bring you 75 Hrs by walk.
Places to visit in Kufri
In addition to the beautiful scenic landscapes and lush forests, you can also visit the Kufri Fun World. This amusement park is one of the highest human-made amusement parks in the world. You will find a Go-Kart track that provides a regal view of the Himalayas. It has a number of rides where you can have fun all day long.

Kufri is the go-to place for ski lovers. In winters, when the potato plantations are harvested, the clear grounds make a perfect ski track. It has some of the best ski resorts in the nation. It has one of the oldest ski slopes in Himachal Pradesh. Another tempting activity to do in Kufri is the donkey or mule ride to the Mahasu peak. It is the tallest peak in the area.

The annual winter games also take place in Kufri which is organised the government of Himachal Pradesh. It attracts thousands of tourists to the city. One of the more famous sports activity in the city is tobogganing in which a person slides down a hill on a sledge.

The Indira tourist park is another gorgeous viewpoint in the city. Chini Bungalow is a unique piece of architecture which has a number of statues and quaint buildings.
Places to visit in Kufri Hill Station
| | | | |
| --- | --- | --- | --- |
| Chini Bungalow | Fagu | Himalayan Nature Park Kufri (Kufri Zoo) | Indira Tourist Park |
| Kufri Fun World | Mahasu Peak | Skiiing | Tattapani |
Kufri Wildlife
Kufri boasts of rich fauna and flora. The highest point of the town is a wildlife zoo which houses a number of exotic antelopes, felines and birds. You can also find the Himalayan monal which was the state bird of Himachal Pradesh till 2007. This national park and zoo is covered by snow-capped mountains on three sides. You will find over 31 species of rare animals and 150 species of rare birds here. This is the perfect place to be for any nature lover. You can visit the Green Valley, also known as the town of Fagu if you want to go bird watching in a forest.
Kufri Fun World
Kufri Fun World, a hub of exciting activities and adventures, is one of the most popular tourist destinations in Kufri. This campus offers Zip-lining and sky swinging, bungee jumping, mirror mazes, haunted houses, and bungee ejection. You can also go-karting and snow skiing. There are many other exciting adventures that will keep you coming back to this spot.
Location: NH 22, Kufri, Himachal Pradesh 171209.
Timings: 9:30 AM to 5:30 PM ( All Days)
Entry fees: Although entry is free, you will need to pay for any rides or adventures that you choose.
Hotels in Kufri
You will not have any problem while visiting Kufri. You might not find a lot of luxury hotels in this hill station, but you will find some good hotels. The hotels have a beautiful view of the hills. You will find most of the hotels near the Main Bazaar and the Kufri-Chail and Kufri-Fagu roads. You will find delectable street food in Kufri. The restaurants can be found in the main market area. Kufri has amazing cafes that serve delicious parathas, pakoras, momos, noodles and many other tasty snacks.
Kufri Hotels
| | | | |
| --- | --- | --- | --- |
| Aastha Home Stay | Aniruddha Homestay | Anubhav Home Stay | AquaForest Luxury Villas |
| Beyond Stay Himalayan Cottages | Echor The Koti Village | Everest House | Firdaus Boutique Stay |
| Galleu Hill Resort | Gulmarg Height Homestay | Hills Home stay Koti | Himalayan Heights |
| Hotel Himalayan Escape | Hotel Kufri Ashray | Hotel Kufri Holiday Inn | Hotel The Twin Towers |
| Hotel Vatika View | Ice Touch Home Stay | Karam Vidhata Resorts | King's Hills |
| Kufri Greens Homestay | Kufri Holiday Homestay | Kufri Holiday Resort | Kufri Mount Stay |
| Kufri Pacific Resort | kufri star in | Kufri Valley Retreat | Mohit Home Stay |
| Mountain Hill view Homestay | Mystic Himalayas Homestay | Nirvan Nest-2 BHK Homestay | Ojas Regency |
| Param Anand Home Stay | Richmit Farm | Royal Tulip Shimla | Snow King Retreat |
| Snowline View Homestay | StayApart Galaxy Homestay | Sterling Kufri | The Alpine Woods |
| The Jungle Mountain Retreat | The Koti Village Resort | The Tikker | Tranquility in the Himalayas |
| Treebo Trend Snow View Resort | Valley view Hotel & Restraunt | Woodays Resort | Zazroo Mud cottages |
| Zephyr House Casa Stay | | | |
Sterling Kufri
Sterling Kufri is a city in the middle of lush green mountains, snow-clad Himalayan summits, and rich forest. Kufri, a hamlet, brings you the best of Himachal Pradesh, including lush mountains, dense forests, and snow-clad hills. Sterling Kufri offers luxury and comfort, as well as stunning views of this beautiful area. It is located just 20 kilometres from Shimla and has 77 rooms.
This place is perfect for a relaxing cup of tea, reading a book, or spending time with loved ones. Kufri is where many wonderful treks start. You can choose to go apple picking or skiing depending on the season.
Kufri Market, 3 km away from the resort, is where you can find authentic local products. The resort offers a variety of activities such as archery, badminton and board games. The in-house restaurant offers a lavish buffet breakfast and dinner, as well as an a-la-carte menu. Khatta Mutton Curry is a must-try.
In this hotel, all rooms have satellite channels and a flat-screen TV. You can also find a sitting area in some rooms. A kettle will be found in the room. Each room has its own bathroom. The property Front Desk works for 24 Hours. There are also hairdressers and a business centre. Subhuti Spa is a great place to pamper yourself. You can hire a car. The property is located 88 miles from Chandigarh Airport.
Sterling Kufri Address: 22 NH Post Office Fagu, Tehsil Theog, Kufri-171209,
Contact Number: 78338 99006
Kufri Pacific Resort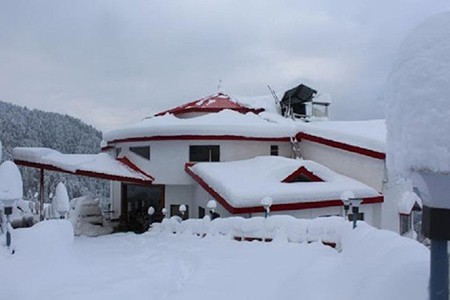 Kufri Pacific Resort is ideally situated on the Kufri Chail highway, surrounded by pine forest and accompanied by silence. The resort was designed to provide maximum guest convenience. Guests can walk from their cars straight to the lobby and park in the hotel's spacious parking lot. Each of the 30 rooms has been designed with luxury in mind.
From all our valley-facing rooms, you can take in the breathtaking views of the Shimla hills and sunsets. You will also find a wellness centre, a fitness centre, and a game room to make your stay unforgettable.
To keep you connected to nature and active, outdoor activities such as natures trek, bonfires and live barbeque can be arranged. A discotheque and conference room are also available to cater to your every need.
Kufri Pacific Resort Address: Munda Ghat, Distt. Shimla
Contact Number: 9805652604,9805641602, 9876606605
Royal Tulip Kufri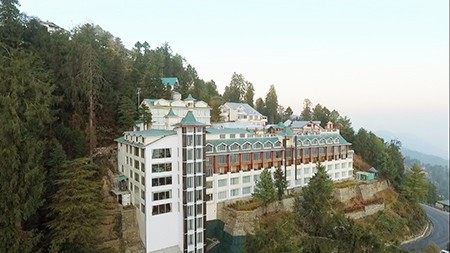 Kufri-Shimla has many retreats in-store to provide you with a sense of complete tranquillity and ensure holistic wellness experiences for your mind, body and spirit. The hotel offers 58 luxuriously appointed rooms & suites, exceptional amenities and the finest range of cuisines that are superlative in class and beyond compare.
Louvre Hotels Group, 5th largest hotel company in the world, with 6,000 hotels worldwide, offering 6,50,000 rooms across 61 countries is a major player in the global hotel industry which operates a complete portfolio of 6 brands ranging from 1 to 5 stars: Premiere Classe, Campanile, Kyriad, Tulip Inn, Golden Tulip and Royal Tulip. Louvre Hotels Group is owned by Jin Jiang International Co. Ltd., one of China's leading travel and tourism conglomerates.
Royal Tulip Kufri Address: NH 22, Kufri-171012 (8 km from the city centre)
Booking: (+33) 170986118
Hotel Contact Number: +91 1772 648888