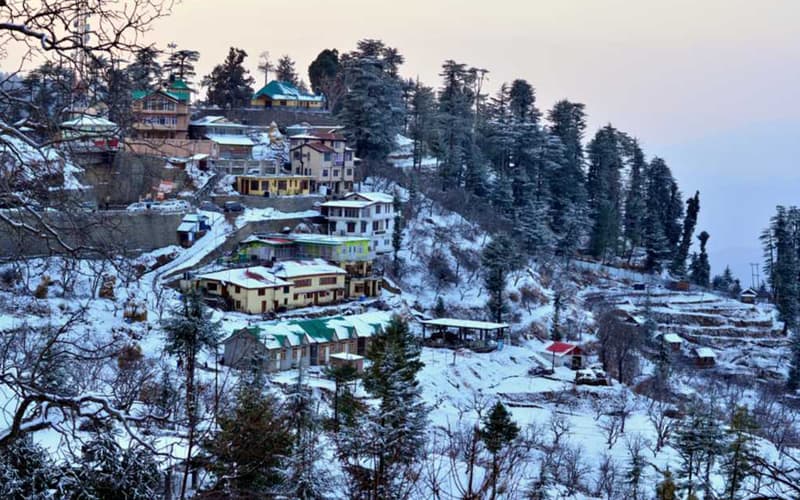 If you are looking for a hill station where you will definitely find snow, then Kufri is the place to be. Kufri is situated in Shimla, Himachal Pradesh. Only 15 kms from the capital, Shimla, Kufri is located on NH22. The name of the place has been derived from the word 'Kufr' which means 'lake' in the local language. This hill station was founded only in 1819 by the British after it was captured from Nepal as part of the Sugauli treaty. Kufri serves as the starting point to many treks to places like Manali, Shimla and Rewalsar among many others.
Kufri Weather
The climate in Kufri is typical of a hill station. The winters which last from October to March are extremely cold, and the temperature falls below zero, which covers the valley with snow and frost. The summers last from April to June and this is the time when the place is filled with tourists as the weather is cool and pleasant and acts as a respite from the scorching sun in other parts of the nation. The monsoon lasts between July and September, but Kufri doesn't receive enough rainfall, and the temperature starts dripping from this time only.
Best Time to visit Kufri (Temperature in Kufri)
| Month | Best Time | Max./ Min. Temp (°C) | Rain (Days) |
| --- | --- | --- | --- |
| January | | 7°/ -3° | 2 |
| February | | 11°/ -1° | 3 |
| March | Best Time | 13°/ 1° | 6 |
| April | Best Time | 20°/ 9° | 10 |
| May | Best Time | 22°/ 8° | 9 |
| June | Best Time | 25°/ 11° | 6 |
| July | Best Time | 20°/ 12° | 27 |
| August | Best Time | 19°/ 12° | 29 |
| September | Best Time | 19°/ 11° | 23 |
| October | Best Time | 18°/ 6° | 1 |
| November | Best Time | 15°/ 3° | 6 |
| December | | 10°/ -1° | 0 |
Shimla to Kufri
Shimla to Kufri distance is just 15 Km. It will hardly take Half an Hour if you take a car, but it will take 3 Hrs to reach by walk.
Delhi to Kufri
Capital of India Delhi to Kufri distance is around 350 Km. If you go via NH 44 and NH5, It will take 9 hours if you take a car, but it is a little challenging to bring you 75 Hrs by walk.
Hotels in Kufri
You will not have any problem while visiting Kufri. You might not find a lot of luxury hotels in this hill station, but you will find some good hotels. The hotels have a beautiful view of the hills. You will find most of the hotels near the Main Bazaar and the Kufri-Chail and Kufri-Fagu roads. You will find delectable street food in Kufri. The restaurants can be found in the main market area. Kufri has amazing cafes that serve delicious parathas, pakoras, momos, noodles and many other tasty snacks.
Places to visit in Kufri
In addition to the beautiful scenic landscapes and lush forests, you can also visit the Kufri Fun World. This amusement park is one of the highest human-made amusement parks in the world. You will find a Go-Kart track which provides a regal view of the Himalayas. It has a number of rides where you can have fun all day long.

Kufri is the go-to place for ski lovers. In winters, when the potato plantations are harvested, the clear grounds make a perfect ski track. It has some of the best ski resorts in the nation. It has one of the oldest ski slopes in Himachal Pradesh. Another tempting activity to do in Kufri is the donkey or mule ride to the Mahasu peak. It is the tallest peak in the area.

The annual winter games also take place in Kufri which is organised the government of Himachal Pradesh. It attracts thousands of tourists to the city. One of the more famous sports activity in the city is tobogganing in which a person slides down a hill on a sledge.

The Indira tourist park is another gorgeous viewpoint in the city. Chini Bungalow is a unique piece of architecture which has a number of statues and quaint buildings.
Places to visit in Kufri Hill Station
| | | | |
| --- | --- | --- | --- |
| Chini Bungalow | Fagu | Himalayan Nature Park Kufri (Kufri Zoo) | Indira Tourist Park |
| Kufri Fun World | Mahasu Peak | Skiiing | Tattapani |
Kufri Wildlife
Kufri boasts of rich fauna and flora. The highest point of the town is a wildlife zoo which houses a number of exotic antelopes, felines and birds. You can also find the Himalayan monal which was the state bird of Himachal Pradesh till 2007. This national park and zoo is covered by snow-capped mountains on three sides. You will find over 31 species of rare animals and 150 species of rare birds here. This is the perfect place to be for any nature lover. You can visit the Green Valley, also known as the town of Fagu if you want to go bird watching in a forest.