Chail is a small hill station in the Indian state of Himachal Pradesh. This hill station is 44 kilometers from the state capital Shimla and 45 kilometers from Solan. The elevation of Chail is 2250 meters above sea level. Forests encircle Chail. These forests abound in Chir Pine and huge deodar trees. You can get a bird's eye view of cities like Shimla, Solan, and Kasauli from here at night.
Chail Weather
They are owing to Chail's pleasant weather in summer, tourist throng here during summers. The winters are very cold here, and Chail receives scanty rainfall of about 150mm only annually. Chail is spread over 72 acres of land along the three hillocks- Sadh Tiba, Pandewa, and Rajgarh. Chail overlooks the canyon of the river Satluj, which amplifies the beauty of the place.
Best time to visit Chail (Chail Temperature)
| Month | Best Time | Max. /Min Temp (°C) | Rain(Days) |
| --- | --- | --- | --- |
| January | | 10°/ 0° | 3 |
| February | Best Time | 13°/ 3° | 5 |
| March | Best Time | 13°/ 1° | 10 |
| April | Best Time | 20°/ 9° | 9 |
| May | Best Time | 26°/ 12° | 7 |
| June | Best Time | 28°/ 15° | 4 |
| July | Best Time | 22°/ 15° | 29 |
| August | Best Time | 21°/ 15° | 29 |
| September | Best Time | 21°/ 14° | 25 |
| October | Best Time | 20°/ 10° | 1 |
| November | Best Time | 17°/ 7° | 5 |
| December | | 12°/ 2° | 0 |
Distance from Chail
Shimla to Chail
Shimla to Chail distance is 44 Km. It will take Two Hours via MDR13 and Kandaghat-Chail-Kufri Rd if you take a car, but it will take 8 Hrs to reach by walk.
Chandigarh to Chail
Chandigarh to Chail distance is around 105 Km. It will take Four Hours via NH5 if you take a car, but it will take 23 Hrs to reach by walk.
Delhi to Chail
Delhi to Chail distance is 105 Km. It will take Three Hours via NH44 if you take a car, but it will take 69 Hrs to reach by walk.
Chail Hotels
In Chail, you will find a number of budget as well as luxurious hotels and resorts. You will find a number of economical hotels, but if you want to stay in luxury in the mountains' lap, then the Palace Hotel is a good option. Palace Hotel is a heritage hotel and was earlier a part of the royal palace of Maharaja of Patiala and is now converted into a luxury hotel. In most of the hotels, you will find restaurants or other food arrangement. But if you want to go out, then the local dhabas of the area provide lip-smacking food. But you won't find several eating joints in Chail like the other hill stations.
Hotels in Chail
| | | | |
| --- | --- | --- | --- |
| Aalayam | Anand Homestay | Chails Hamlet | DeeLux Resorts |
| Ekam Villa | Ekant Retreat Resort | Ekant Vatika | Fernhill Resorts |
| Golden Valley Cottages | Himneel Hotel | Hotel Chail Inn | Hotel Chail Residency |
| Hotel Comfort Inn | Hotel Deventure | Hotel Downtown Resort | Hotel Ekant |
| Hotel Emerald Valley | Hotel Grand Sunset | Hotel Heavens Blue Hospice | Hotel Jungle Livinn |
| Hotel Monaal | Hotel Oak Wood | Hotel Oakwood | Hotel Purnima |
| Hotel Tavish | HPTDC The Chail Palace | Jungle Livinn Camping | Jungle Stays |
| Kailash Hotel | Kali Tibba Resort | Kanishka Retreat Resort | Little Heart Resort |
| LivingStone | LivingStone Eco Resort | LivingStone Mountain Retreat | Maple Resort By Aamod |
| Mint Tarika Resort | Mountain View Resort | My Farm House | Nandana Estate |
| Panorama Home Stay | Pristine Mountain Lodge | Rashi Resort | Resort Extreme Village |
| Rosewood | Snow Trails Camp | Snowdrop Eco Resort | Sunrise Home Stay |
| Swiss Cottage | The Ayali | The Koti Village Resort | The Royal Swiss Cottage |
| Treehouse Chail Villas | Village Live In Resort | Vishwaram Cottages | Vue Magique Resorts & Camps |
| Welcomhotel by ITC Hotels | White Pearl Hotel | | |
Treehouse Chail Villas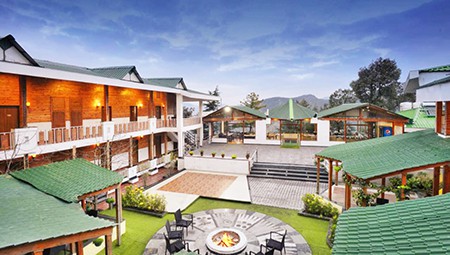 The Treehouse Chail Villas are nestled among the green meadows in Chail. It is surrounded by pine and deodar.
The stunning views from the hilltop hotel offer breathtaking views of the surrounding areas. The property is located at 7000 feet above sea level and overlooks the beauty of the surrounding area. The central courtyard houses the hotel, with rooms that overlook the valley or verdant greens. Kebabry, the hotel's in-house restaurant, offers all-day dining options.
Treehouse Chail Villas Address: Chail Kufri Road Village Alampur, Chail, Kandaghat Tehsil 173217
Contact Number: 8640040066
Maple Resort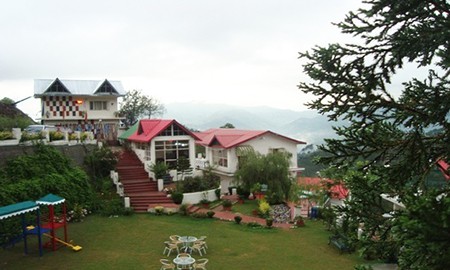 Chail is a small village that overlooks the hills nearby. It is one the most peaceful places in Himachal Pradesh. It is surrounded by dense forest, making it a popular destination for adventure and sightseeing near Shimla. This resort is located at Chail-Kufri road, 2250m above sea level. It is close to Shimla's major tourist attractions, but away from the hustle and bustle. It is a beautiful retreat in the hills, with its 30 spacious rooms, excellent location and delicious cuisine.
Maple Resort Address: Village Dunu, Chail Road, Distt Solan, Chail, Kandaghat Tehsil 173515
Contact Number: 09213022540
Mint Tarika Resort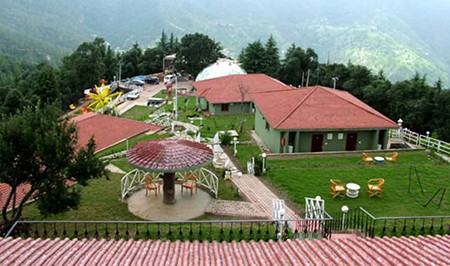 Mint Tarika resort is located in Chail at 7054 feet in the lush Himachal Pradesh countryside. It's a great weekend escape. It is surrounded by thickly wooded forests and lush greenery, making it the ideal resort for honeymooners. It is close to many tourist attractions such as the Kali Temple and Chail Cricket Grounds. Tara Devi Mandir is also nearby. There are many shopping centres at this place.
Mint Tarika Resort offers acres of space and dome-shaped architecture. It also has 66 beautifully designed rooms and cottages in Chail that offer breathtaking views of the hills. We provide impeccable service for our guests.
Mint Tarika Resort Address: Chail-Blossom, Tehsil Kandaghat, District Solan, Chail, Himachal Pradesh 173217
Contact Number: +91 777705 0589
Email Id: tarika@staymint.com
Places to visit in Chail
Chail used to be a small, sleepy village in Himachal Pradesh, but everything changed after 1893. Chail is known for its lush green forests. You will find the purest air here cleansed by the forests. Chail is a hotspot for hikers. It is a wonderful place and offers magnificent views of the lower Himalayas. You will find many Eco camps here. In addition, you will find amazing camping spots here, and it has become the go-to place for hikers, campers, and sports enthusiasts. Adrenaline junkies will find many trekking points from Junga, Kufri, and Ashwani Khad at Solan.

Chail makes the Golden Triangle of Himachal Pradesh with Shimla and Kufri. Chail is relatively less filled with tourists in comparison to the other two places and makes it a perfect spot for someone who wants some peace. The serene forests have their own guile that attracts the tired traveller. The Deodar and Pine trees enhance the views.
| | | | |
| --- | --- | --- | --- |
| Chail Gurudwara | Chail Military School | Chail to Kufri Road | Chail Wildlife Sanctuary |
| Cricket Ground | Gurudwara Sahib | Himalayan Nature Park | Junga to Chail Trek |
| Jwalamukhi Devi Temple | Kali ka Tibba | Mani Lhakhang Stupa | Manjathal Sanctuary |
| Palace Hotel | Rastriya Military School | Sadhupul Lake | Sherbling Monastery |
| Sidh Baba Ka Mandir | Stone Kumbd | | |
Chail Palace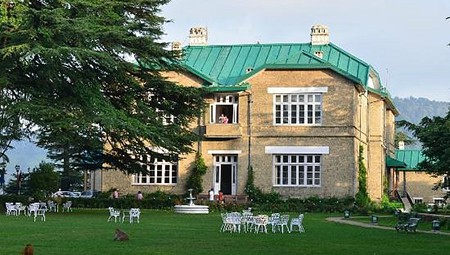 In addition to beautiful scenes and landscapes, Chail is known for the Chail Palace. The Chail Palace is a unique piece of architecture. This palace was built by the Maharaja of Patiala. The Maharaja built this palace on the land given to him by the British after he assisted them in the Anglo-Nepalese war. He used this palace to spend his summers. You will also find a cricket ground and a polo ground on the grounds of the palace. It was earlier owned by the royal family of Patiala. The cricket ground here is the world's highest cricket ground at an elevation of 2,444 meters above sea level.
Chail Cricket Ground
Bhupinder Singh Maharaja, a Patiala resident who had a summer retreat at Chail, established the ground in 1893. He planned to establish his summer capital in this village, but Lord Kitchener prevented him from entering Shimla in 1891. Later, he found a hilltop on which he built a cricket field. It is now covered with huge pine and deodar trees.
The Maharaja used this area to play cricket with British soldiers, but it now belongs to the Indian Army. The vast Himalayan ranges, which glitter in the sun and are snow-covered, can be found to the side of the ground. It is 7500 feet above sea level and is a famous cricket stadium in India. The ground, which is 2444 meters above sea level, has the highest cricket pitch in the world. It is surrounded by forests and used by Chail Military School as a school playground.
This cricket ground is located in Chail, India's Himachal Pradesh state. From here, visitors can enjoy a spectacular view of the Sutlej Valley and Shimla at night. Chail Military School also uses this ground as their school playground. The ground has a basketball court, and goalposts are available on the cricket field for football. It is used for Polo during school vacations. It has a basketball court and goalposts for football.
Rashtriya Military School (RMS Chail)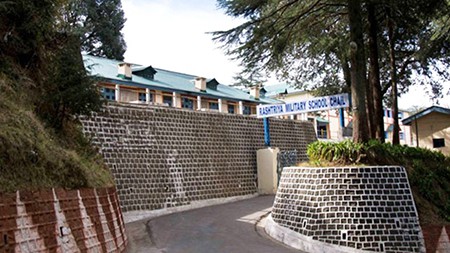 Chail Military School is India's oldest military school. Similar schools were founded at Ajmer, Belgaum, Bengaluru, and Dholpur in 1962. These 5 military schools have been renamed and are now known collectively as the "Rashtriya Military Schools (RMS). Cadets from these schools call themselves Georgians.
Rashtriya Military School (RMS Chail) is a residential school located in Himachal Pradesh in India. It was established in 1922 after the First World War. The royal patriotic fund of King George V donated Rs.250,000. King George V laid the foundation stone for the school in February 1922. In 1925, the school began functioning at Jalandhar Cantonment. After their founder father, the cadets are called Georgians.

It is one among five RMS (Rashtriya Military Schools, formerly known as Royal Indian Military Schools), of its type in India. The other four are Ajmer Military School, Belgaum Military School, Bangalore Military School, Dholpur Military School, and Belgaum Military School, which were founded in 1930. After World War I, 1 RIMC was established and 5 RMS were created by the government to Indianise British Colonial Military in India. They provide western-style education to help prepare the future pool of military officers. Bhonsala Military School, which was established in 1937, is the oldest private military school. It is not an RMS.

The school is situated in the middle of 110km square Chail Sanctuary, at 2144m above sea level. Chail is home to the world's highest cricket pitch. It is also used as a training ground and playground for cadets.
Rashtriya Military School Address: Principal, RMS Chail (Shimla Hills), Himachal, India, Pin - 173217,
Contact Number: Principal- 01792-248750, (Office)-9816048323, Adm Officer- 01792-248026
Email Id: admoffrchail@gmail.com
Chail Wildlife Sanctuary
Chail Wildlife Sanctuary is located in Chail. It is a hill station that is home to goral, cheer pheasants and sambar at Blossom. At dusk and dawn, kalijin and barking deer can be seen.
It extends 110 km Square. Chail Sanctuary is home to a large forest area. Chail Wildlife Sanctuary was first identified in 1976 and declared a protected area by the government. In 1988, the cheer pheasant breeding program and rehabilitation programme were launched. The dense oak, pine and grassland cover is evident.
The sanctuary is dominated by mammals. The sanctuary is home to large mammals such as the rhesus macaque and leopards. Other species that are found in the region include Himalayan black bears, wild boars, common langur and black-naped Hares. The former Maharaja from Patiala introduced European red deer half a century ago, but they were not sighted in 1988 according to the survey. The nearby cheer breeding and rehabilitation centre has contributed to an increase in cheer pheasants.